Casey Kasem's American Top 40 - Sundays 10am-2pm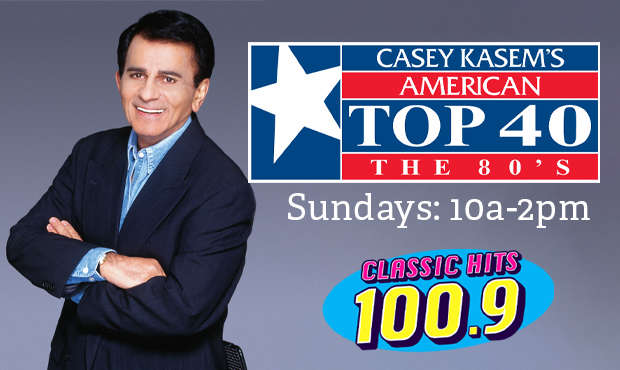 Catch Casey Kasem's American Top 40 on Sundays from 10 am to 2 pm. It's 40 of the best 80s tracks back to back on Classic Hits 100.9!
Casey Kasem was one of the most recognizable voices in radio and television. Millions of fans around the world still find his name synonymous with musical countdowns. In 2003, Casey Kasem retired from the helm of American Top 40 – the show he created in 1970. Kasem's friendly, "crackling" voice style took him to the top of his profession. The man, who once dreamed of being a baseball player but ended up as a radio sports announcer instead, was the youngest member ever inducted into the Radio Hall of Fame. He has his own star on Hollywood Boulevard's Walk of Fame. In 1997, Billboard magazine honored him with its first-ever Lifetime Achievement Award. Kasem was honored with the first ever "Radio Icon" award at the Radio Music Awards in 2003. Throughout his career, Kasem worked as a character actor in films and television. He has voiced countless commercials and Saturday morning cartoon-show characters, including the voice of Shaggy in the evergreen Scooby Doo television and film franchise.